Stefan Nagel received his first ballet lessons at the age of four from a traveling dance teacher in Anröchte / Westphalia, where he grew up.

Around the age of 18 he became interested in the dance teaching profession. But after graduating from high school and for security reasons, he learned the profession as a wholesale and foreign trade clerk first, which he successfully completed at the Chamber of Commerce and Industry in Berlin.
Right next day he started training as an ADTV dance teacher, but did not finish it, because he was too drawn to the stage. In order to earn for his dance studies, he accepted the offer of his former training company and worked there as a salesperson for photocopiers.
In addition, he began his training as a dancer in ballet, jazz, modern, afro and of course tap dancing, with Hannelore Doodt, Carnell Lyons, Milton Irons, Anita Barth, and Vladimir Gelvan and others.
After two years he quit his daily job, so that he could pursue his full-time artistic education and live out his dream of being on a stage.
Now he started his classical singing studies, first with hungarian tenor Prof. Garay.
The musical summer academie of Susi Nicoletti in Salzburg, where he later worked as a teacher as well, gave him his first musical theatre experience.
At the end of the course, there was a small musical show where various directors were looking for new talents.
This is how he got his first TV entry: Dieter Pröttel cast him for a tap dance performance in Michael Schanze's well known show "Hätten Sie heut Zeit für uns?".
And the Landestheater Salzburg offered him the role of 'Action' in the "West Side Story". But he refused because he simply didn't feel "good enough" for it yet. He wanted to become a better dancer and singer first and continued to learn in Berlin. A very good decision, as it should show later.
The austrian actor Peter Weck also became aware of him because of this musical show at the end of that summer academie and invited him two years later to audition for CATS.
His first professional engagement was a direct hit: In 1983 composer Sir Andrew Lloyd Webber, choreographer Gillian Lynne and director Trever Nunn, selected him out of 800 participants for the German-language premiere of "CATS" in Vienna. For this purpose, a tap dance solo was added into the show, that never existed in any other CATS cast in the world before and after.
Due to his extraordinary talent for tap dancing, it was inevitable that he had to go to the USA to study. He traveled to Boston several times and studied with one of the greatest masters in the field, Leon Collins. Likewise with Diane Walker and CB-Heterington. Tap dancers know these names.
In order to continue his classical vocal studies (later with Prof. Richard Gsell from the Berlin University of the Arts), he went back to Berlin after the first year of "CATS" and was hired by Peter Zadek for the European premiere of the musical "GHETTO" at the Freie Volksbühne Berlin. Here in the dance ensemble, but surrounded by first-class actors such as Michael Degen, Ulrich Tukur, Ernst Jakobi, Otto Tausig, Hermann Lause and others, his wish started to later be trained in classical spoken theater as well.
Afterwards, Peter Weck brought him back to "CATS" in Vienna. This time he played one of the larger solo roles: 'Skimbleshanks the railroad cat'.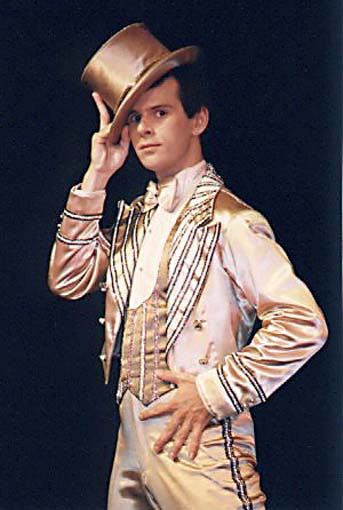 This was followed by another high point in his career: With the role of 'Mike Costa' in "A CHORUS LINE", he celebrated the Austrian premiere at the Raimund Theater in Vienna.
In addition to the original German recording of "CATS", Stefan Nagel can also be heard on the original German recording of "A CHORUS LINE" with the song "I can do that – Das ist nicht schwer" on CD.
Even while "A CHORUS LINE" was running, German Opera Director Götz Friedrick brought him as a guest to the Deutsche Oper Berlin. Here he played the pantomime role of the "beautiful miller's wife" in the opera "FROM A DEAD HOUSE" under Götz Friedrich's direction.
After returning from Vienna back to germany, he received a guest contract at the famous Schiller Theater Berlin in the play "DAS LIEBESKONZIL", for which Konstantin Wecker wrote the music.
After he had worked as a soloist in many large musical productions and continued to study singing, the perfectionist then began classical his acting training at Maria Körber's drama school, which he completed three years later with the stage entrance examination in front of the German Theater Association. Now he could finally call himself a "state-certified actor".
As a guest, he subsequently played many leading roles in musicals at various German theaters. These include the role of 'Vernon' in 'THER PLAYING OUR SONG' in Berlin, 'King Herod' in 'JESUS CHRIST SUPERSTAR' in Schwäbisch Hall, 'Will Parker' in 'OKLAHOMA' at the Hildesheim City Theater, and 'Juan Péron' in "EVITA", and many, many others.
As a trained actor, he was now and then seen in various roles on television too.
He was able to fully live out his talent for the comic subject when theatre director Peter Lund gave him the main role of 'Max' for the tour of the boulevard comedy "LEND ME A TENOR" with the Theater am Kurfürstendamm Berlin.
An absolute highlight for Stefan Nagel started with a coincidence: During a visit to a café in Vienna, he met the conductor Caspar Richter, with whom he had played "CATS" and "A Chorus Line" in Vienna and "MASS" by Leonard Bernstein in Innsbruck.
He told him that the Dresden State Operetta was planning the German premiere of the musical "SINGIN IN THE RAIN" and had been looking for a suitable lead actor for the famous Gene Kelly role for months, but had not yet found anyone. An audition was set up and Stefan Nagel was immediately hired for the leading role. For the famous rain number "Singin 'in the Rain" he was enthusiastically celebrated by the audience of the Dresden State Operetta.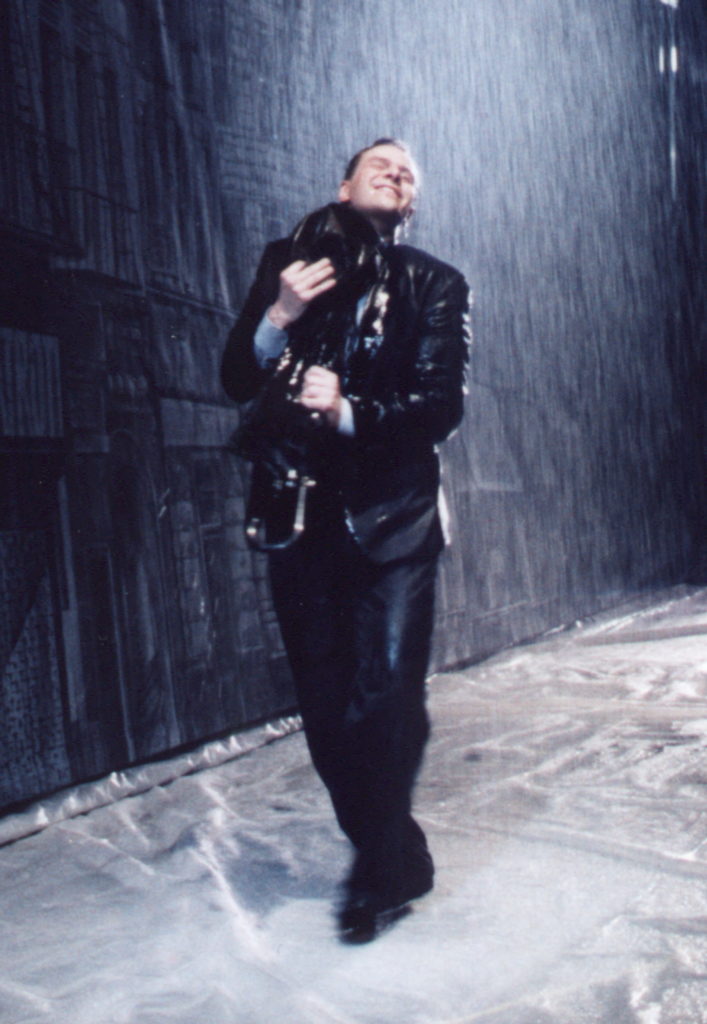 This kind of closed a circle that had started 25 years earlier ,when Stefan Nagel was a teenager and sitting in a cinema watching "Singing in the rain" and decided to become a tap dancer himself.
This experience was only topped by a one-off appearance with Debbie Reynolds (the original cast of 'Kathy Seldon' in the film) in her "DEBBIE REYNOLDS SHOW" in Las Vegas.
Following "SINGIN IN THE RAIN", he was immediately hired for the main role of 'Gaston Lachailles' in "GIGI" in Dresden. Many other leading musical roles followed.
The fact that he really learned three artistic professions paid off for him. He can be found in musical productions as well as in plays and on television.
He also performs his own concerts or solo shows.
Following his love for jazz and tap, it was only logical to found his own big band in 2003:
'Stefan Nagel' and his "Businessmen of Rhythm".
The name of the big band has a personal meaning for Stefan Nagel: In doing so, he honors his old, colored tap teacher Carnell Lyons, who has appeared in all the great variety theatres around the world under the name of "The Three Businessmen Of Rhythm". Because his teaching and his tap steps , Stefan Nagel got his start into show business.
This year (2021) he will celebrate his 38th anniversary on stage